St. Mary Vestry Meeting Minutes July 2023
Members of the Vestry are spiritual leaders committed to building up the Body of Christ to be an effective instrument of mission and ministry in the world. Serving on the Vestry is a commitment of time, energy, and heart.
Vestry persons are elected for staggered three-year terms to represent the parish membership in temporal matters and to make wise and prayerful decisions concerning the life and ministry of the congregation.
In February 2022, the Vestry of St. Mary of the Hills adopted a Vestry Covenant, reflecting the values and intentions desired to guide and govern our common life and work. You can read the Covenant by clicking on the image below.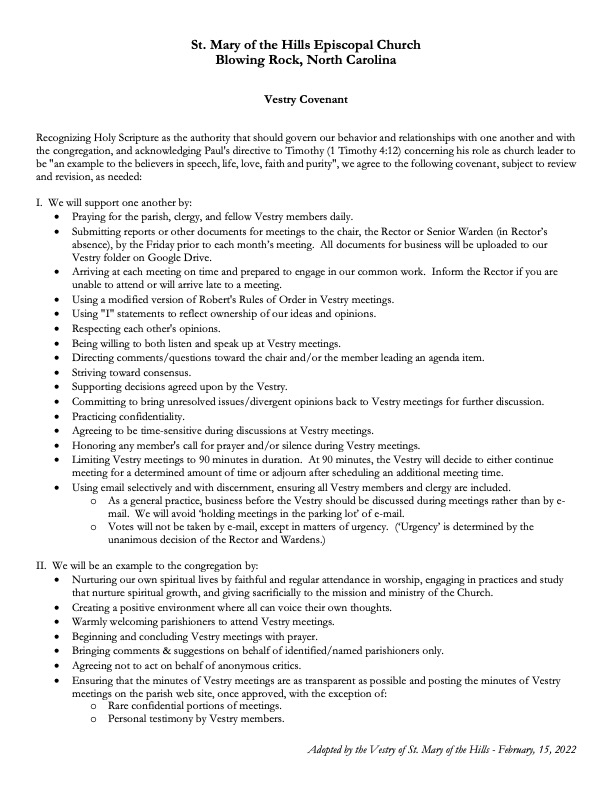 St. Mary of the Hills 2022 Vestry
Amanda White, Treasurer
Elizabeth Sudderth, Clerk
2023 Vestry Meeting Minutes
St. Mary of the Hills Vestry Minutes for October 2023
Amended Minutes of September Vestry Mtg
St. Mary Vestry Meeting Minutes August 2023
St. Mary Vestry Meeting Minutes July 2023
St. Mary Vestry Meeting Minutes June 21, 2023
St. Mary Vestry Meeting Minutes May 16, 2023
No April 2023 Vestry Meeting
St Mary Vestry Meeting Minutes March 21 2023 (1)
St Mary Vestry Meeting Minutes February 21 2023 (1)
St Mary Vestry Meeting Minutes January 17 2023 (1)
2022 Vestry Meeting Minute
Vestry Meeting Minutes October 18 2022
Vestry Minutes - November 15 2022 (2)
2021 Meeting Minutes
Vestry Minutes - January 18, 2022-
Vestry Minutes - February 16 2021
Vestry Minutes - April 21, 2020
Vestry Minutes - August 17, 2021
Vestry Minutes - September 21 2021
Vestry Minutes - October 19 2021
Vestry Minutes - November 16 2021
Vestry Minutes - December 21, 2021