Lent 2023 - A Journey Toward Easter Joy
A Lenten Book Companion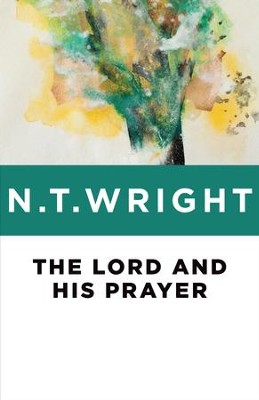 In this book of pastoral reflections N.T. Wright explores how the Lord's Prayer sums up what Jesus was all about in his first-century setting. Wright locates the Lord's Prayer, clause by clause, within the historical life and work of Jesus and allows the prayer's devotional application to grow out of its historical context. The result is a fresh understanding of Christian spirituality and the life of prayer. This deeply devotional book will refresh and stimulate the heart and mind.
Join us on Thursdays during the lunch hour, 12:00-1:00PM, either in-person (in the Barrett Room) or online (via Zoom) for discussion, beginning with the first chapter on February 23.
The book is available in the parish office for a suggested donation of $10.00. It is also available online from a variety of booksellers.
(Password: 102545)
Rector's Forum
During the season of Lent, the Rector's Forum will explore the ways that we pray and worship during Holy Week and seek to answer, "Why do we do what we do?"
We'll begin with some introduction to the Holy Week resources in our Book of Common Prayer and how they were developed before going deeper into each of the Holy Week liturgies.
We gather each Sunday morning at 9:00AM in the Barrett Room (second floor, above the Parish Hall).
Godly Play
Godly Play, a Montessori-based approach to teaching the stories of our faith, is offered each Sunday morning in the St. Luke Room (second floor, above the Parish Hall) at 9:00AM. During the season of Lent, we will be exploring a series entitled, "Faces of Easter," as we prepare to celebrate the joy of resurrection.
Parents are welcome to remain with their children or join the Rector's Forum across the hall in the Barrett Room.
The Way of the Cross
The Way of the Cross, also known as the Stations of the Cross, will be prayed each Friday in Lent, beginning February 24, at 12:00PM in the Church. All are welcome!
An online devotion is also available -
Way of the Cross - Reflection Guide
Centering Prayer
Lindsey Herring, Christian Formation Coordinator, will be offering an introduction to Centering Prayer, a contemplative spiritual practice that allows us to quiet the heart and rest in God's presence, during Lent, beginning at 11:00AM on Fridays prior to Stations of the Cross.
The Sacrament of Reconciliation
The Reconciliation of Penitent, commonly called 'Confession', will be offered each Friday in Lent, from 12:30PM until 1:00PM. Reconciliation is also available at any time by appointment.
Please contact Fr. Andrew if you'd like to make an appointment or to learn more about the rite of Reconciliation in the Episcopal Church.